Mississauga Dental Group
At the Mississauga Dental Group, our mission is to provide the highest quality dental care using the latest clinically proven materials and techniques in a relaxed, comfortable, family-oriented environment.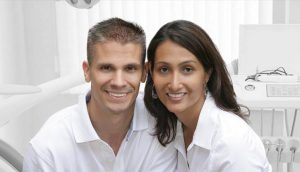 We have offices that are open Saturdays and evenings for your convenience. Dr. Michael Luciani & Dr. Amanika Luciani provide most dental treatment in office, decreasing or eliminating additional time off and travel to other dental specialists. Our doctors and staff are continuously being trained in the use of the latest dental procedures and technologies.
Dr. Michael Luciani & Dr. Amanika Luciani are happy to offer same-day emergency appointments & complimentary consultations for dental implants, Invisalign, cosmetic dental procedures and full mouth rehabilitation. Our friendly, caring dental team is looking forward to assisting you.
Provides most services in-office. This includes: Implants, root canals, Invisalign, crown, bridges and veneers, dentures, whitening, and dental cleanings.
Continuous training by the doctors and staff to provide the newest proven technologies to our patients to decrease discomfort, increase longevity and to decrease treatment time & expense.
Both male and female dentists
Offers same-day emergency appointments
A friendly, caring and well-trained dental team that is there to help provide the best possible experience for our patients
Open Saturdays and evenings

115 Lakeshore Road, East
Mississauga Ontario L5G 1E5
Office Hours:
Monday: 9am – 3pm
Tuesday: 9am – 6pm
Wednesday: 9am – 6pm
Thursday: 9am – 3pm
Friday: Closed
Saturday: (Selective) 9am – 3pm
Sunday: Closed

1575 Clarkson Road N, Unit 3
Mississauga ON L5J 2X1
Office Hours:
Monday: 9am – 6pm
Tuesday: 10am – 3pm
Wednesday: 10am – 3pm
Thursday: 9am – 6pm
Friday: Closed
Saturday: (Selective) 9am – 3pm
Sunday: Closed
Is Your Smile Less-Than-Perfect Because Of Damaged Teeth?
Are you struggling with social interactions due to missing teeth or feeling self-conscious about your dental health? If so, our dental offices in Mississauga, ON have a solution for you. With dental implants, you can achieve the smile you've always wanted in just a few easy visits. Our team of experts, led by Dr. Michael Luciani and Dr. Amanika Luciani, is committed to helping you regain your confidence and improve your oral health. Keep reading to discover how dental implants can transform your smile and learn more about our exceptional staff. Contact us today to schedule a consultation and take the first step towards your best smile ever.